Although many software solutions exist to control a remote computer (Windows XP's Remote Desktop, PC Anywhere...), the TRX-Manager's remote control ability minimizes the information being passed on the network and thus, gives faster real-time control which a DX operation requires, with very low bandwidth requirements (even practicable via Packet at 1200 Bauds !). At last, all the logging and DXIng functions are locally controlled which allows you taking full advantage of TRX-Manager and makes the trafic much more easier.
Using TRX-Manager installed on two computers, two modes of operation are available : a standard mode (supported by all transceivers) which allows taking the control over the most important functions of a transceiver and a real-mode which allows controlling your transceiver exactly as if the com-port is open from the master station (only ICOMs, TS-480/2000 and Elecraft K2 & K3 are supported in real mode).

If you prefer using a serial device server, TRX-Manager also offers the specific settings required for this type of operation (for all ICOMs + Kenwoods TS-440 to TS-850/950). Please visit the Larry N8LP 's web site for more information about the use of serial device servers...
It is still possible to control your station via a remote Desktop software (PC Anywhere, Win XP Desktop, etc...) but this type of operation is not specific to TRX-Manager.
The table below summarizes the various way of operation and the required settings :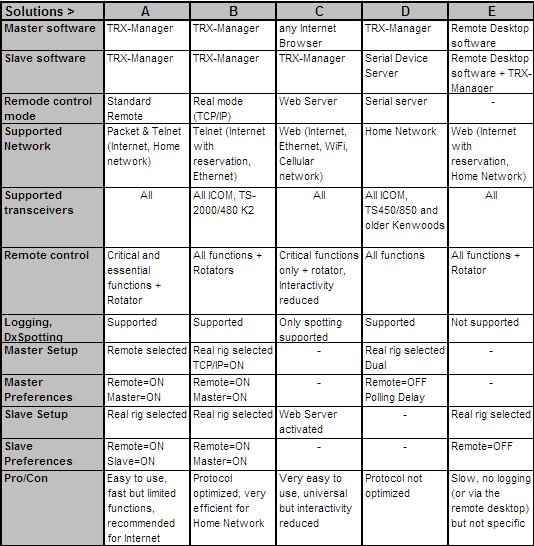 The various ways of "remote operation" with TRX-Manager